History in the 1930s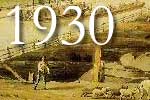 The following events occurred in the decade beginning in 1930. These are the events that shaped the world during the lives of your ancestors, both here in the United States and throughout the world. If you've ever wondered who your ancestors voted for, what their primary mode of transportation was, and how they received the news of their day — this may give you a clue.


1790 • 1800 • 1810 • 1820 • 1830 • 1840 • 1850 • 1860
1870 • 1880 • 1890 • 1900 • 1910 • 1920 • 1930


The decade of the 1930s started off in the shadow of the stock market crash of October 1929.
1/1930 - Prohibition in the United States celebrates 10th anniversary
2/1930 - Sonja Henie wins her fourth consecutive world figure-skating title
2/1930 - NY City to install traffic signals at busy intersections
3/1930 - Former President William Howard Taft died in Washington DC at the age of 72
6/1930 - Boxer Max Schmeling wins world heavyweight title after low blow from Jack Sharkey
7/1930 - Gallant Fox win horse racings triple crown (Kentucky Derby, Preakness, Belmont)
11/1930 - Golfer Bobby Jones retires, winner of numerous titles including Grand Slam
1/1931 - Bela Lugosi plays vampire in remake of Bram Stoker's novel Dracula
3/1931 - Notre Dame football coach, Knute Rockne, killed in plane crash in Kansas
5/1931 - New York's Empire State Building opens to become world's tallest building
8/1931 - 785-foot USS Akron christened, the 1st Goodyear dirigibles built for the US Navy
10/1931 - Inventor Thomas Alva Edison died in New Jersey at the age of 84
10/1931 - New York's George Washington Bridge opens over Hudson (Cass Gilbert design)
2/1932 - Lake Placid, New York plays host to Winter Olympics
3/1932 - Son of aviator Charles Lindbergh kidnapped from New Jersey home
3/1932 - John Philip Sousa, famed composer, dies at the age of 77
5/1932 - Amelia Earhart first woman to fly solo across the Atlantic
5/1932 - Lindbergh baby found dead in New Jersey field by truck driver
8/1932 - Los Angeles, California plays host to Summer Olympics
11/1932 - Franklin Delano Roosevelt wins Presidential election over incumbent Hoover
1/1933 - Adolf Hitler named Chancellor of Germany
2/1933 - President-elect Franklin Roosevelt escapes attempted assasination in Miami
3/1933 - Franklin Delano Roosevelt sworn in as President as the United States
11/1933 - Fiorello H. LaGuardia elected mayor of New York City
5/1934 - Clyde Barrow and Bonnie Parker, better known as Bonnie & Clyde, killed by police
8/1934 - Adolf Hitler becomes President of Germany following death of Paul von Hindenburg
8/1934 - Luxury liner Morro Castle burns off Jersey shore, killing 130
6/1935 - Thoroughbred Omaha becomes third to win horse racings Triple Crown
8/1935 - Social Security enacted as President Roosevelt signs bill into law
10/1935 - Ethiopia invaded by Italian troops under direction of Benito Mussolini
2/1936 - Ferdinand Porsche introduces the Volkswagen
2/1936 - Germany plays host to the Winter Olympics
8/1936 - Jesse Owens stars in Summer Olympics as Berlin and Hitler play host
5/1937 - Airship Hindenburg explodes in flames, killing more than 30 in New Jersey
2/1937 - Aviatrix Amelia Earhart goes missing over Pacific in attempt to circle globe
11/1938 - On November 1st, Seabiscuit upset War Admiral in the 'Match of the Century'
4/1939 - New York hosts World's Fair
8/1939 - President Roosevelt breaks with tradition and sets Thanksgiving as Nov. 23rd
9/1939 - Nazis invade Poland,
12/1939 - Clark Gable stars in movie "Gone With the Wind"


1790 • 1800 • 1810 • 1820 • 1830 • 1840 • 1850 • 1860
1870 • 1880 • 1890 • 1900 • 1910 • 1920 • 1930


• • • • • • •
Copyright © 2011 by Family Tree Brands, LLC. All Rights Reserved.

Google Your Family Tree | Vital Records | Immigration Records | Celebrity Genealogy | 1940 Census | Online Marketing