History in the 1890s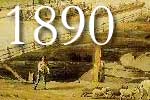 The following events occurred in the decade beginning in 1890. These are the events that shaped the world during the lives of your ancestors, both here in the United States and throughout the world. If you've ever wondered who your ancestors voted for, what their primary mode of transportation was, and how they received the news of their day — this may give you a clue.


1790 • 1800 • 1810 • 1820 • 1830 • 1840 • 1850 • 1860
1870 • 1880 • 1890 • 1900 • 1910 • 1920 • 1930


The content for this page is pending, please visit again soon!
The United Mine Workers of America is founded (25 Jan 1890)
The United States Census Bureau begins using Herman Hollerith's tabulating machine to count census returns (1 Jun 1890)
Idaho and Wyoming are admitted as the 43rd and 44th states (3 July, 10 July 1890)
The Daughters of the American Revolution is founded in Washington DC (11 Oct 1890)
The Music Hall in New York (now known as Carnegie Hall) has its grand opening and first public performance, with maestro Peter Ilyich Tchaikovsky as the guest conductor (5 May 1891)
Ellis Island opens as immigrant receiving station in New York Harbor, 15-year old Irish immigrant Annie Moore is given the honor of being the first arrival through Ellis Island (01 Jan 1892)
To mark 400 anniversary Columbus Day holiday, the "Pledge of Allegiance" was first recited in unison by students in US public schools (12 Oct 1892)
The first professional football game is played, in Latrobe, Pennsylvania, between the Latrobe YMCA and the Jeannette Athletic Club. (Latrobe won the contest 12-0.) (3 Sep 1895)
Utah is admitted as the 45th U.S. state (4 Jan 1896)
The United States Supreme Court rules in Plessy v. Ferguson, introducing the "separate but equal" doctrine and upholding segregation (18 May 1896)
William McKinley succeeds Grover Cleveland as President of the United States (4 Mar 1896)
Mark Twain, responding to rumors that he was dead, is quoted by the New York Journal as saying, "The report of my death was an exaggeration." (2 June 1896)
The United States annexes the Hawaiian Islands (7 July 1898)
A peace treaty between the United States and Spain is ratified by the United States Senate (6 Feb 1899)
Voting machines are approved by the U.S. Congress for use in federal elections (14 Feb 1899)


1790 • 1800 • 1810 • 1820 • 1830 • 1840 • 1850 • 1860
1870 • 1880 • 1890 • 1900 • 1910 • 1920 • 1930


• • • • • • •
Copyright © 2011 by Family Tree Brands, LLC. All Rights Reserved.

Google Your Family Tree | Vital Records | Immigration Records | Celebrity Genealogy | 1940 Census | Online Marketing