History in the 1800s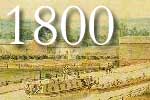 The following events occurred in the decade beginning in 1800. These are the events that shaped the world during the lives of your ancestors, both here in the United States and throughout the world. If you've ever wondered who your ancestors voted for, what their primary mode of transportation was, and how they received the news of their day — this may give you a clue.


1790 • 1800 • 1810 • 1820 • 1830 • 1840 • 1850 • 1860
1870 • 1880 • 1890 • 1900 • 1910 • 1920 • 1930


We update historical events on a regular basis, so check back on future visits!
United States Library of Congress founded (24 April 1800)
The United States Congress holds its first Washington, D.C. session (17 Nov 1800)
An electoral tie between Thomas Jefferson and Aaron Burr is resolved when Jefferson is elected President of the United States and Burr Vice President by the United States House of Representatives (17 Feb 1801)
First edition of New York Evening Post (16 Nov 1801)
The estimated world population reached 1 billion people (1802)
West Point Military Academy is established in West Point, New York (16 March 1802)
Louisiana Purchase made by the United States from France (30 April 1803)
Senate ratifies the Louisiana Purchase Treaty, doubling the size of the United States (20 Oct 1803)
New Jersey becomes the last northern state to abolish slavery (15 Feb 1804)
The Lewis and Clark Expedition departs from Camp Dubois and begin their historic journey by traveling up the Missouri River (14 May 1804)
Alexander Hamilton was shot and killed in a duel with Aaron Burr (11 July 1804)
Lewis and Clark Expedition arrived at the Pacific Ocean (7 Nov 1805)
Andrew Jackson kills a man in a duel after the man had accused Jackson's wife of bigamy (30 May 1806)
The U.S. Congress passes an act to "prohibit the importation of slaves into any port or place within the jurisdiction of the United States ... from any foreign kingdom, place, or country." (2 March 1807)
Sufficient evidence is presented to a grand jury to indict former Vice President of the United States Aaron Burr for treason (22 May 1807) (Acquitted 01 Sep 1807)
James Madison defeats Charles C. Pinckney in U.S. presidential election (Nov 1808)


1790 • 1800 • 1810 • 1820 • 1830 • 1840 • 1850 • 1860
1870 • 1880 • 1890 • 1900 • 1910 • 1920 • 1930


• • • • • • •
Copyright © 2011 by Family Tree Brands, LLC. All Rights Reserved.

Google Your Family Tree | Vital Records | Immigration Records | Celebrity Genealogy | 1940 Census | Online Marketing