History in the 1870s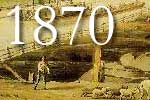 The following events occurred in the decade beginning in 1870. These are the events that shaped the world during the lives of your ancestors, both here in the United States and throughout the world. If you've ever wondered who your ancestors voted for, what their primary mode of transportation was, and how they received the news of their day — this may give you a clue.


1790 • 1800 • 1810 • 1820 • 1830 • 1840 • 1850 • 1860
1870 • 1880 • 1890 • 1900 • 1910 • 1920 • 1930


We update historical events on a regular basis, so check back on future visits!
Plans for the Brooklyn Bridge in New York City are completed (1 Jan 1870)
The fifteenth amendment is entered into the United States Constitution, giving blacks the right to vote (30 March 1870)
Author and actor Charles Dickens dies after suffering a stroke (9 June 1870)
The U.S. Congress creates the Department of Justice (22 June 1870)
Christmas is declared a federal holiday in the United States (26 Jun 1870)
President Ulysses S. Grant signs the Amnesty Act of 1872 into law restoring full civil rights to all but about 500 Confederate sympathizers (22 May 1872)
Levi Strauss and Jacob Davis receive a US patent for blue jeans with copper rivets. The price was $13.50 per dozen (20 May 1874)
The United States celebrates centennial (4 July 1876)
In retaliation for the dramatic American defeat at the Battle of the Little Bighorn, United States Army troops under General Ranald S. Mackenzie sack Chief Dull Knife's sleeping Cheyenne village at the headwaters of the Powder River (the soldiers destroyed all of the villager's winter food and clothing and then slashed their ponies' throats) (25 Nov 1876)
The Yale News becomes the first daily, college newspaper in the United States (28 Jan 1878)
The phonograph is patented by Thomas Edison (19 Feb 1878)
Frank Woolworth opens the first of many of 5 and 10-cent Woolworth stores in Utica, New York (22 Feb 1879)
Using a filament of carbonized thread, Thomas Edison tests the first practical electric light bulb (it lasted 13½ hours before burning out) (21 Oct 1879)


1790 • 1800 • 1810 • 1820 • 1830 • 1840 • 1850 • 1860
1870 • 1880 • 1890 • 1900 • 1910 • 1920 • 1930


• • • • • • •
Copyright © 2011 by Family Tree Brands, LLC. All Rights Reserved.

Google Your Family Tree | Vital Records | Immigration Records | Celebrity Genealogy | 1940 Census | Online Marketing