1870 Census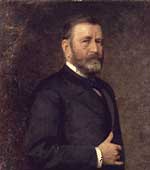 The 1870 U.S. Federal Census was the ninth enumeration of the United States population and represented nearly 23% growth over the previous census. The official date was June 1, 1870 and enumerators had five month to complete their work.

The 1870 Census was the first to be conducted following the end of the Civil War and includes as many as fifteen data elements for each person enumerated. Returns from some locations have been lost or destroyed, including: Kootenai (ID); Arapahoe (KS); Archer, Baylor, Concho, Edwards, Hardeman, Knox, Trylor, Wichita, and Wilbarger (TX); and Benton, Columbia, and San Juan (WA).


Quick Access to Summary Overview for Any U.S. Federal Census
1790 • 1800 • 1810 • 1820 • 1830 • 1840 • 1850 • 1860
1870 • 1880 • 1890 • 1900 • 1910 • 1920 • 1930 • 1940


• • • • • • •
Copyright © 2011 by Family Tree Brands, LLC. All Rights Reserved.

Google Your Family Tree | Vital Records | Immigration Records | Celebrity Genealogy | 1940 Census | Online Marketing