1900 Census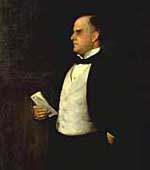 The 1900 Federal Census was the twelvth enumeration of the United States population and the first one of the new century. Researchers will find this to be a valuable census given the data elements captured, but also because the loss of the 1890 census leaves many with a 20 year gap during a period of heavy immigration.

Elsewhere in the Spring/Summer of 1900, the second modern Olympics were held in Paris, France. Among the competitors were 55 Americans whose strong performance dominated the sprints and field events. In China, the government was busy responding to the Boxer Rebellion. And in Germany, a new form of transportation recorded its first — Count Ferdinand von Zeppelin's hydrogen-filled airship successfully completed its maiden voyage in Friedrichshafen.


Quick Access to Summary Overview for Any U.S. Federal Census
1790 • 1800 • 1810 • 1820 • 1830 • 1840 • 1850 • 1860
1870 • 1880 • 1890 • 1900 • 1910 • 1920 • 1930 • 1940


• • • • • • •
Copyright © 2011 by Family Tree Brands, LLC. All Rights Reserved.

Google Your Family Tree | Vital Records | Immigration Records | Celebrity Genealogy | 1940 Census | Online Marketing