History in the 1840s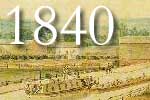 The following events occurred in the decade beginning in 1840. These are the events that shaped the world during the lives of your ancestors, both here in the United States and throughout the world. If you've ever wondered who your ancestors voted for, what their primary mode of transportation was, and how they received the news of their day — this may give you a clue.


1790 • 1800 • 1810 • 1820 • 1830 • 1840 • 1850 • 1860
1870 • 1880 • 1890 • 1900 • 1910 • 1920 • 1930


We update historical events on a regular basis, so check back on future visits!
Queen Victoria of the United Kingdom marries Prince Albert of Saxe Coburg-Gotha (10 Feb 1840)
The Great Natchez Tornado: A massive tornado strikes Natchez, Mississippi during the early afternoon hours. Before it was over, 317 people had lost their lives and 209 were injured. It is the second deadliest tornado in U.S. history (7 May 1840)
Martin Van Buren, President of the United States is succeeded by William Henry Harrison (4 March 1841)
President William Henry Harrison dies of pneumonia becoming the first President of the United States to die in office and at one month, the elected president with the shortest term served. He is succeeded by Vice President John Tyler (4 April 1841)
The Citadel, The Military College of South Carolina is established (20 Dec 1842)
The world's first commercial Christmas cards are printed by Sir Henry Cole in London (1842)
Charles Goodyear receives a patent for vulcanization, a process to strengthen rubber (15 June 1844)
President John Tyler signs a bill authorizing the United States to annex the Republic of Texas (1 March 1845)
Florida is admitted as the 27th U.S. state (3 March 1845)
In Annapolis, Maryland, the Naval School (later renamed the United States Naval Academy) opens with 50 midshipmen students and seven professors (10 Oct 1845)
Open conflict begins over border disputes of Texas' boundaries - the Mexican-American War (25 April 1846)


1790 • 1800 • 1810 • 1820 • 1830 • 1840 • 1850 • 1860
1870 • 1880 • 1890 • 1900 • 1910 • 1920 • 1930


• • • • • • •
Copyright © 2011 by Family Tree Brands, LLC. All Rights Reserved.

Google Your Family Tree | Vital Records | Immigration Records | Celebrity Genealogy | 1940 Census | Online Marketing