GEDCOM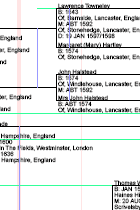 The GEDCOM File Format
OK, first things first — What is GEDCOM?
- GEnealogical
- Data
- COMmunications

Computers have been around a while, but genealogy has been around far longer. When people began using early computers to tackle family history tasks, a file format specification was developed by members of the Family and Church History Department of The Church of Jesus Christ of Latter-day Saints (The Mormons). This specification enabled different software programs to exchange data with one another, so long as each could read (import) and write (export) the GEDCOM format.

Today, virtually all commercial software written for the genealogy market supports the GEDCOM format. In addition, many of the leading Web sites that enable sharing of files also use GEDCOM as the basis for their service. That's about all the 'technical detail' most users will want or need to know about GEDCOM.
Sharing GEDCOM Files
Sharing your computerized files with other researchers can be a useful way to advance your research and help others working on different branches of the same family line. You should take caution, however, when sharing files. First — you should avoid posting a file online that contains birth and other personal details for living persons. Some software and Web sites will remove this information automatically, but you should be certain that you don't share of post this information accidentally.

Another thing to consider is the content of electronic notes that you may take using your genealogy software program. If you share your files, you may want to do so without sharing the notes. This will protect the privacy of your personal observations and assumptions about certain individuals in your tree.

Lastly, you should understand that the moment you share your GEDCOM file with anyone, you essentially lose control of what happens to the data in the future. It is not uncommon for a reseacher to share a GEDCOM file, then weeks later while conducting an online search, they think they've discovered a great new clue in their research only to realize it is based on their prior work which has been posted online by another reseacher with access to their GEDCOM.

View Google search results for more details about GEDCOM.
• • • • • • •
Copyright © 2011 by Family Tree Brands, LLC. All Rights Reserved.

Google Your Family Tree | Vital Records | Immigration Records | Celebrity Genealogy | 1940 Census | Online Marketing