1Step Search Tools by Dr. Stephen Morse
If you're conducting family research — Census or otherwise — you'll want to know about the collection of 1Step Search tools developed by family history enthusiast Dr. Stephen P. Morse of San Francisco, California. It all started simply enough. In April 2001, the much anticipated launch of www.ellisisland.org had Morse in a virtual line with millions of others seeking access to the Port of New York passenger arrival records through Ellis Island between 1892 and 1924.
After searching the online archive without success, Morse realized he could put his technical skills to work and with the help of several other like-minded and tech-savvy individuals, he built a better mouse trap. The Ellis Island 1Step Search was the first of what has grown to become a collection of powerful tools for online genealogists of all levels.
1940 Census — Street Transcription Project
On 01 April 2012, the 1940 Census will be released from the 72-year privacy mandate and family historians will flood to National Archives in search of ancestors. BUT there will not be an index available and so researchers will be required to know the Enumeration District in the city or town where their ancestors lived. If you would like to help in this effort, visit the Morse site for more details about this project.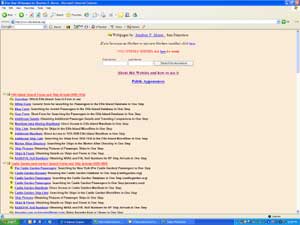 Selected Links:
• Which 1Step US Census Form?

• 1930 US Census Codes

• 1930 US Census Enumeration Districts

• 1901-1911 Canadian Census Form

• NY State Census (1905, 1915, 1925)