1940 Census — Countdown to 2012
There are -1670 days remaining until Sunday, April 1, 2012.

The official date for the 1940 Census was April 1st, but since that day will fall on a Sunday in 2012, it is unclear whether reseachers will have weekend access to film at the National Archives or will instead need to wait until Monday, April 2nd to satisfy their genealogical curiosity.
(No — this isn't an April Fools joke, you can check your calendar)

Getting Ready for 1940 Research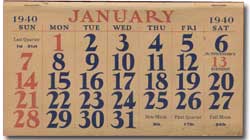 Since you've got so much time, there may be no urgency to this right now, but don't wait until the night before to start getting ready for one of the biggest genealogical events since, well — since April 2002 when the 1930 Census was released.

Start by listing those direct-line ancestors who you have found in the 1930 census and that you know were still living in 1940. While it's possible that they may still be living in the same city or state, don't rule out the fact that your ancestors may have moved. Once you have listed these individuals, consider looking for anyone in their mid-to-late teens or 20s who may have been living in the household in 1930, but may now be found as a head of their own household. Next, you'll want to repeat this same process for indirect ancestors (aunts & uncles).

1940 Census — Street Transcription Project
On 01 April 2012, the 1940 Census will be released from the 72-year privacy mandate and family historians will flood to National Archives in search of ancestors. BUT there will not be an index available and so researchers will be required to know the Enumeration District in the city or town where their ancestors lived. If you would like to help in this effort, visit www.stevemorse.org for more details about a project to create a free time-saving tool for your fellow genealogists.

• • • • • • •
Copyright © 2011 by Family Tree Brands, LLC. All Rights Reserved.

Google Your Family Tree | Vital Records | Immigration Records | Celebrity Genealogy | 1940 Census | Online Marketing